Mario Capecchi
Distinguished Professor of Human Genetics, Professor of Biological Sciences, and Adjunct Professor of Oncological Sciences
2007 Nobel Prize Winner for Physiology or Medicine
Mammalian Development, Human Pathology from Cancer to Neuropschiatric Disorders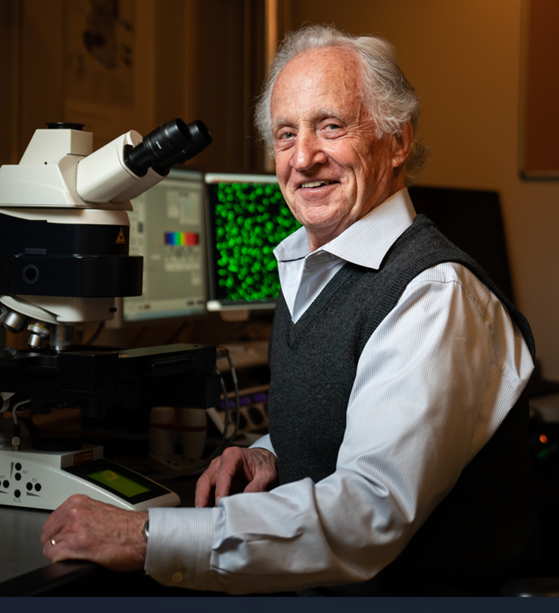 Molecular Biology Program
Education
B.S. Antioch College
Ph.D. Harvard University
Research
We have recently turned our attention to the role of microglia, the immune cell of the brain, in maintaining brain homeostasis and in protecting us from acquisition of anxiety disorders. Anxiety disorders affect ~20% of adults. These statistics are even more alarming for adolescents, with 38% of females and 26% of males reporting disabling anxiety. The levels of anxiety disorders are currently rapidly arising even higher as a consequence of the COVID-19 pandemic. The strong sex bias of anxiety disorders is observed at all age levels in humans. We have shown in mice that a genetic disruption in a subpopulation of microglia (Hoxb8 microglia) causes chronic anxiety and, as in humans, females exhibit more severe pathology than males. Moreover, the more severe pathology in females can be reduced to male levels by treatments that lowers their female hormone levels. In contrast, the pathology in mutant males can be increased to female levels by the introduction of female hormones. Since we can induce the behavioral pathologies through optogenetic stimulation we are positioned to map the brain circuitry that cause these disorders and determine how microglia communicate with specific brain neural circuits to modulate their output.
Anxiety disorders show extremely high comorbidity with a number of neuropsychiatric disorders. Why such high comorbidity exists has not been answered nor why different choices, such as major depression, OCD or schizophrenia are made. Our mouse model shows very high comorbidity with OCD spectrum disorder. Why? Can this choice be changed? Many questions can now be addressed genetically and molecularly and the tools to address these questions are here.
References
Nagarajan N, Capecchi MR. Optogenetic Stimulation of Mouse Hoxb8 Microglia in Specific Regions of the Brain Induces Anxiety, Grooming, or Both. Molecular Psychiatry. 2023 Apr 10. doi: 10.1038/s41380-023-02019-w. Epub ahead of print. PMID: 37037872.
Nam HS, Capecchi MR. Lrig1 expression identifies quiescent stem cells in the ventricular-subventricular zone from postnatal development to adulthood and limits their persistent hyperproliferation. Neural Dev. 2023 Jan 11;18(1):1. doi: 10.1186/s13064-022-00169-1. PMID: 36631891; PMCID: PMC9832784.
Van Deren DA, De S, Xu B, Eschenbacher KM, Zhang S, Capecchi MR. Defining the Hoxb8 cell lineage during murine definitive hematopoiesis. Development. 2022 Apr 15;149(8):dev200200. doi: 10.1242/dev.200200. Epub 2022 Apr 22. PMID: 35452096.
Capecchi MR. The origin and evolution of gene targeting. Dev Biol. 2022 Jan;481:179-187. doi: 10.1016/j.ydbio.2021.10.007. Epub 2021 Oct 30. PMID: 34743970.
Panza E, Ozenberger BB, Straessler KM, Barrott JJ, Li L, Wang Y, Xie M, Boulet A, Titen SW, Mason CC, Lazar AJ, Ding L, Capecchi MR, Jones KB. The clear cell sarcoma functional genomic landscape. J Clin Invest. 2021 Aug 2;131(15):e146301. doi: 10.1172/JCI146301. PMID: 34156976; PMCID: PMC8321568.
Nam HS and Capecchi MR (2020). Lrig1 expression prospectively identifies stem cells in the ventricular-subventricular zone that are neurogenic throughout adult life.Neural Dev. 17;15(1):3

PMID:

32183906

Tränkner D, Boulet A, Peden E, Focht R, Capecchi M (2019). A microglia sublineage protects from sex-linked anxiety symptoms and obsessive compulsion. Cell Reports 29(4):791-799 PMID: 31644903
De, S., D. Van Deren, E. Peden, M. Hockin, A. Boulet, S. Titen and M. Capecchi (2018). Two Distinct Ontogenies Confer Heterogeneity to Brain Microglia. Development 145 PMID: 29973370.
Nagarajan N, Jones BW, West PJ, Marc RE, Capecchi MR. Corticostriatal circuit defects in Hoxb8 mutant mice. Mol Psychiatry. 2018 Sep;23(9):1868-1877. doi: 10.1038/mp.2017.180. Epub 2017 Sep 26. Erratum in: Mol Psychiatry. 2017 Nov 28;: PMID: 28948967; PMCID: PMC5970001.