Prospective Students
Applications for Fall 2023 will be due December 1, 2022.
The Bioscience PhD Programs provide a collaborative and rigorous graduate training environment. The interdisciplinary nature of the programs provide students with a wide-ranging selection of research opportunities representing eleven departments at the University of Utah.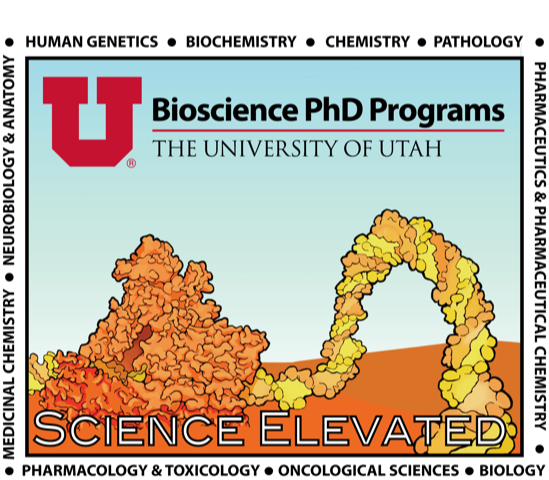 The Bioscience PhD Programs are comprised of the Molecular Biology Program and Biological Chemistry Program. Each program is distinct in its core curriculum and requirements, yet the two programs overlap extensively within the scientific community at the University of Utah. Both have access to the same resources, which are designed to support collaborative, interdisciplinary science.
To avoid confusion and delays in processing applications, students are asked to apply to only one of the two programs.  Students should identify the Program that best accommodates their research interests and provides the most appropriate core curriculum. Some of the most important similarities and differences between the MB and BC Programs are highlighted in our detailed Program Comparison page.
If you have any questions about either Program, and/or their relationships to one another and the participating departments, please feel free to contact us.

Illustration By: Megan Okada (megan.okada@biochem.utah.edu)
Training Tailored to Your Interests:
---
The Bioscience PhD Programs provide the opportunity for students to carry out cutting-edge research with world-class scientists, in a highly collaborative, interdisciplinary training environment. The extremely diverse nature of our faculty research ensures that students will find exciting projects suited to their specific interests. Students work in state-of-the-art facilities and have access to exceptional core services.
Well-balanced Lifestyle:
---
Nestled in the foothills of the stunning Wasatch Mountain range, the University of Utah is minutes away from both outdoor and urban recreation. Students enjoy year-round outdoor recreation including: rock and mountain climbing, world-class skiing, hiking, and biking. Nearby urban centers offer a variety of entertainment and cultural events such as: Ballet West, Utah Symphony and Opera, Sundance Film Festival, the Twilight Concert Series, and much more. To top it off, Salt Lake City's moderate cost of living, safe environment, and small-town-meets-big-city feel makes Utah a great place to live and study.
See our Living in Utah page for details!
Student Diversity:
---
The Bioscience PhD Programs are dedicated to enriching an already diverse student training environment. We collaborate with university entities to create a campus climate that accommodates and is inclusive to all members of the graduate community.
Learn what resources are available to students on our Student Diversity page.
Join our research community with our free application