Brian Evavold
Professor of Microbiology and Immunology
Division Chief, Division of Microbiology and Immunology
T cell Antigen Recognition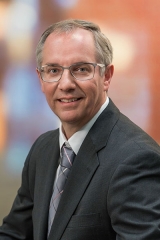 Molecular Biology Program
Education
B.A. St. Olaf College
Ph.D. University of Chicago
Research
My research centers on how antigen recognition by T cells determines cell phenotype, fate, and outcome of the adaptive immune response. Understanding the mechanisms driving T cell activation provides novel insight into the basis of autoimmune disease and effective response to infections.
Through the use of our novel and sensitive Micropipette assay we are able to determine single bond T Cell Receptor (TCR) affinity for peptide restricted by MHC (pMHC) in T cell subset populations. Our Biomembrane Force Probe is able to analyze TCR:pMHC bond lifetimes under force. Together, Micropipette and BFP analysis of cells provide a clearer picture of T cell interactions with antigens associated with self and pathogens.
References (Selected Publications)
Sibener LV, Fernandes RA, Kolawole EM, Carbone CB, Liu F, McAffee D, Birnbaum ME, Yang X, Su LF, Yu W, Dong S, Gee MH, Jude KM, Davis MM, Groves JT, Goddard WA 3rd, Heath JR, Evavold BD, Vale RD, Garcia KC. Isolation of a Structural Mechanism for Uncoupling T Cell Receptor Signaling from Peptide-MHC Binding. Cell. 2018 Jul 26;174(3):672-687.e27. doi: 10.1016/j.cell.2018.06.017. PubMed PMID: 30053426; PubMed Central PMCID: PMC6140336.
Sanecka A, Yoshida N, Kolawole EM, Patel H, Evavold BD, Frickel EM. T Cell Receptor-Major Histocompatibility Complex Interaction Strength Defines Trafficking and CD103(+) Memory Status of CD8 T Cells in the Brain. Front Immunol. 2018 Jun 5;9:1290. doi: 10.3389/fimmu.2018.01290. eCollection 2018. PubMed PMID: 29922298; PubMed Central PMCID: PMC5996069.
Andargachew R, Martinez RJ, Kolawole EM, Evavold BD. CD4 T Cell Affinity Diversity Is Equally Maintained during Acute and Chronic Infection. J Immunol. 2018 Jul 1;201(1):19-30. doi: 10.4049/jimmunol.1800295. Epub 2018 May 18. PubMed PMID: 29777029.
Blanchfield L, Sabatino JJ Jr, Lawrence L, Evavold BD. NFM Cross-Reactivity to MOG Does Not Expand a Critical Threshold Level of High-Affinity T Cells Necessary for Onset of Demyelinating Disease. J Immunol. 2017 Oct 15;199(8):2680-2691. doi: 10.4049/jimmunol.1700792. Epub 2017 Sep 8. PubMed PMID: 28887429; PubMed Central PMCID: PMC5768416.