Robert Judson-Torres
Assistant Professor of Dermatology and Adjunct Assistant Professor of Oncological Sciences
Melanocytes, Melanoma, Plasticity, Chemoprevention, Holography, Tumor Initiating Cells, microRNA, Transcriptomics

Molecular Biology Program
Education
B.A. Wesleyan University
Ph.D. University of California, San Francisco
Research
Dr. Judson-Torres' research program seeks to understand the dynamic transcriptional programs regulating human melanocytes and how disruptions to these programs permit or drive the early stages of melanoma development. Melanoma is a skin cancer that is curable if detected early, but usually fatal if left unchecked. Melanomas are derived from melanocytes that have acquired specific genetic mutations. However, the majority of melanocytes that acquire these exact mutations do not progress to melanoma. Both the intrinsic transcriptional and epigenetic programs as well as the external environmental and chemical factors that govern the probability of transformation are poorly understood. His laboratory studies diverse populations of primary human melanocytes and melanoma cell lines using single cell sequencing, live digital holographic imaging, and CRISPR/Cas9-based precision engineering. Translational aspects of his work include the identification of transcriptional programs as potential biomarkers for early melanoma diagnosis and the discovery of administered compounds that alter the probability of transformation.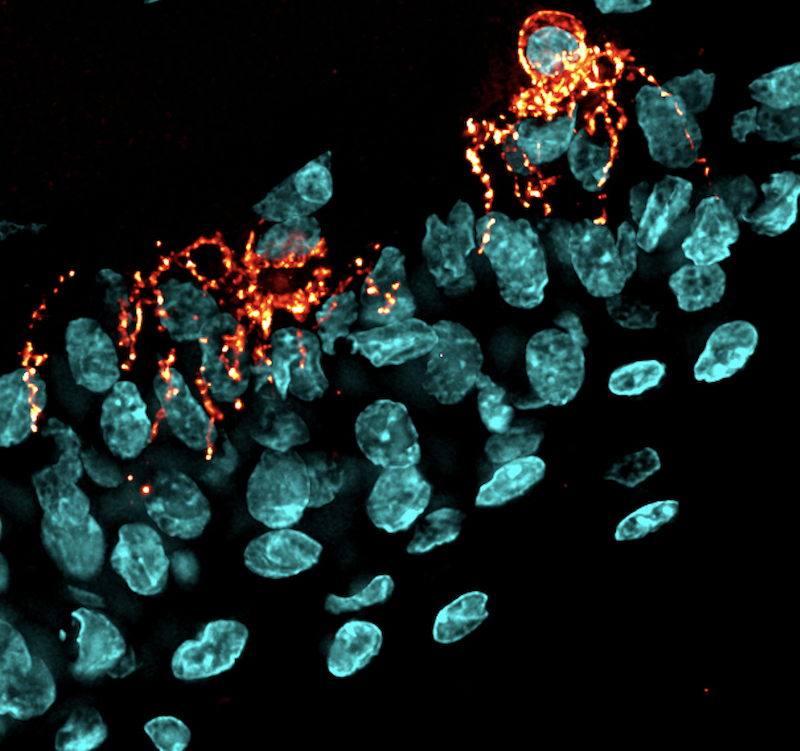 Dr. Judson-Torres serves as a mentor for students at all levels of education, from high school through post-doctoral and clinical fellows. In addition to training students in molecular, cell and translational research, he is also particularly interested in career development for graduate students and post-doctoral fellows. Dr. Judson-Torres is an avid believer that well-trained scientists should be professionally serving our communities in all aspects of organization, government, planning and education, in addition to academic and industrial research.
References (Selected Publications)
McNeal AS, Belote RL, Zeng H, Barker K, Torres R, Curtin M, Shain AH, Andtbacka RHI, Holmen SL, Lum DH, McCalmont TH, VanBrocklin MW, Grossman D, Wei ML, Lang UE, Judson-Torres RL. BRAFV600E induces reversible mitotic arrest in human melanocytes via microRNA-mediated suppression of AURKB. eLife. 2021, 10:e70385.
Belote RL, Le D, Maynard A, Lang UE, Sinclair A, Lohman BK, Planells-Palop V, Baskin L, Tward AD, Darmanis S, Judson-Torres RL. Human Melanocyte Development and Melanoma Dedifferentiation at Single-Cell Resolution. Nat Cell Biol. 2021 Sep;23(9):1035-1047.
Tang J, Fewings E, Chang D, Zeng H, Liu S, Jorapur A, Belote RL, McNeal AS, Tan TM, Yeh I, Arron ST, Judson-Torres RL, Bastian BC, Shain AH. The genomic landscapes of individual melanocytes from human skin. Nature. 2020 Oct 22; 586, 600–605. doi: https://doi.org/10.1038/s41586-020-2785-8
Grossman D, Okwundu N, Bartlett EK, Marchetti MA, Othus M, Coit DG, Hartman RI, Leachman SA, Berry EG, Korde L, Lee SJ, Bar-Eli M, Berwick M, Bowles T, Buchbinder EI, Burton EM, Chu EY, Curiel-Lewandrowski C, Curtis JA, Daud A, Deacon DC, Ferris LK, Gershenwald JE, Grossmann KF, Hu-Lieskovan S, Hyngstrom J, Jeter JM, Judson-Torres RL, Kendra KL, Kim CC, Kirkwood JM, Lawson DH, Leming PD, Long GV, Marghoob AA, Mehnert JM, Ming ME, Nelson KC, Polsky D, Scolyer RA, Smith EA, Sondak VK, Stark MS, Stein JA, Thompson JA, Thompson JF, Venna SS, Wei ML, Swetter SM. Prognostic Gene Expression Profiling in Cutaneous Melanoma: Identifying the Knowledge Gaps and Assessing the Clinical Benefit. JAMA Dermatol. 2020 Sep 1;156(9):1004-1011. doi: 10.1001/jamadermatol.2020.1729. PMID: 32725204; PMCID: PMC8275355.
Lang UE, Torres R, Cheung C, Vladar EK, McCalmont TH, Kim J, Judson-Torres RL. Ciliation Index Is a Useful Diagnostic Tool in Challenging Spitzoid Melanocytic Neoplasms. J Invest Dermatol. 2020 Jul;140(7):1401-1409.e2. doi: 10.1016/j.jid.2019.11.028. PMID: 31978411.
Barker KL, Boucher KM, Judson-Torres RL. Label-Free Classification of Apoptosis, Ferroptosis and Necroptosis Using Digital Holographic Cytometry. Applied Sciences. 2020; 10(13):4439. doi: https://doi.org/10.3390/app10134439
Zeng H, Judson-Torres RL, Shain AH. The Evolution of Melanoma - Moving beyond Binary Models of Genetic Progression. J Invest Dermatol. 2019 Oct 14;. doi: 10.1016/j.jid.2019.08.002. [Epub ahead of print] Review. PubMed PMID: 31623932.
Torres R, Lang UE, Hejna M, Shelton SJ, Joseph NM, Shain AH, Yeh I, Wei ML, Oldham MC, Bastian BC, Judson-Torres RL. MicroRNA ratios distinguish melanomas from nevi. J Invest Dermatol. 2019 Aug 22;. doi: 10.1016/j.jid.2019.06.126. [Epub ahead of print] PubMed PMID: 31580842; NIHMSID:NIHMS1538065.
Zeng H, Jorapur A, Shain AH, Lang UE, Torres R, Zhang Y, McNeal AS, Botton T, Lin J, Donne M, Bastian IN, Yu R, North JP, Pincus L, Ruben BS, Joseph NM, Yeh I, Bastian BC, Judson RL. Bi-allelic Loss of CDKN2A Initiates Melanoma Invasion via BRN2 Activation. Cancer Cell. 2018 Jul 9;34(1):56-68.e9. doi: 10.1016/j.ccell.2018.05.014. PMID: 29990501
Shain AH, Joseph NM, Yu R, Benhamida J, Liu S, Prow T, Ruben B, North J, Pincus L, Yeh I, Judson R, Bastian BC. Genomic and Transcriptomic Analysis Reveals Incremental Disruption of Key Signaling Pathways during Melanoma Evolution. Cancer Cell. 2018 Jul 9;34(1):45-55.e4. doi: 10.1016/j.ccell.2018.06.005. PMID: 29990500
Hejna M, Jorapur A, Song JS, Judson RL. High accuracy label-free classification of single-cell kinetic states from holographic cytometry of human melanoma cells. Sci Rep. 2017 Sep 20;7(1):11943. doi: 10.1038/s41598-017-12165-1. PMID: 28931937
Judson RL, Greve TS, Parchem RJ, Blelloch R. MicroRNA-based discovery of barriers to dedifferentiation of fibroblasts to pluripotent stem cells. Nat Struct Mol Biol. 2013 Oct;20(10):1227-35. doi: 10.1038/nsmb.2665. Epub 2013 Sep 15. PubMed PMID: 24037508; PubMed Central PMCID: PMC3955211.