John Phillips
Professor of Hematology and Adjunct Professor of Microbiology and Immunology
Porphyrin Biosynthesis, Heme Biosynthesis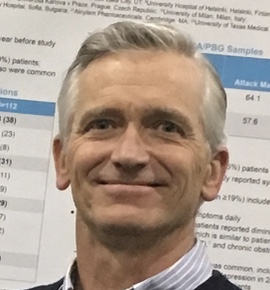 Molecular Biology Program
Education
B.S. University of New Hampshire
Ph.D. Dartmouth College
Research
Heme is essential for life; virtually all organisms are either able to make heme or they have developed a mechanism to parasitize it from other organisms. Heme is a critical component in proteins with diverse functions such as the transport of oxygen (hemoglobin, myoglobin), the production of ATP (cytochromes of the electron transport chain), detoxification reactions in the liver (the cytochrome P450 family of enzymes). In our laboratory, we study the synthesis of heme, the pathway consists of eight enzymes that convert glycine and succinyl-CoA into a tetrapyrrole that eventually accepts an iron atom forming heme.
In humans, defects in any of the eight steps involved in heme synthesis are termed the porphyrias. The most common of the porphyrias is Porphyria Cutanea Tarda (PCT) that is due to reduced activity of Uroporphyrinogen Decarboxylase (URO-D). We have primarily focused on this fifth step in the heme biosynthetic, using a combination of biochemistry, mouse genetics and structural studies to understand the molecular basis of the disease. There are both environmental and genetic components to the development of PCT. We have constructed a mouse model of the familial form of PCT. We have also developed an environmental model of PCT using environmental toxins such as polychlorinated biphenyls (PCB's). In all cases, the phenotype of PCT (blisters on sun exposed areas of skin, excess porphyrins in urine and excess iron) is due to an inhibitor of the enzyme. Using these mouse models of PCT we are identifying the changes that occur in the liver that lead to the production of an inhibitor of URO-D.
We are one of the six sites that comprise the Porphyria Consortium, funded through the NIH Office of Rare Diseases. Clinical trials for several of the porphyric disorders are currently enrolling patients. We are studying novel therapies for some of the more common porphyric disorders. We are also funded as the Center for Iron and Heme Disorders (CIHD), by NIDDK. (http://cihd.cores.utah.edu/) These resources are used to examine the role of iron in several of the different porphyric diseases.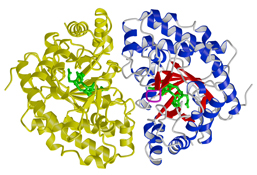 References
Rondelli CM, Perfetto M, Danoff A, Bergonia H, Gillis S, O'Neill L, Jackson L, Nicolas G, Puy H, West R, Phillips JD, Yien YY. The ubiquitous mitochondrial protein unfoldase CLPX regulates erythroid heme synthesis by control of iron utilization and heme synthesis enzyme activation and turnover. J Biol Chem. 2021;297(2):100972. doi: 10.1016/j.jbc.2021.100972. Online ahead of print. PMID: 34280433
Shah P, Cannon DC, Lowe JR, Phillips JD, Christensen RD, Kamath-Rayne B, Rosenberg A, Wiedmeier S, Patel S, Winter S, Baker S, Ohls RK. Effect of blood transfusions on cognitive development in very low birth weight infants. J Perinatol. 2021; doi: 10.1038/s41372-021-00997-9. PMID: 33911186
Cox HD, Miller GD, Manandhar A, Husk JD, Jia X, Marvin J, Ward DM, Phillips JD, Eichner D. Measurement of Immature Reticulocytes in Dried Blood Spots by Mass Spectrometry. Clin Chem. 2021; hvab058. doi: 10.1093/clinchem/hvab058. PMID: 33993255
Tonna JE, Pierce J, Hatton N, Lewis G, Phillips JD, Messina A, Skidmore CR, Taylor K, Selzman CH. Safety and feasibility of using acellular sterile filtered amniotic fluid as a treatment for patients with COVID-19: protocol for a randomised, double-blinded, placebo-controlled clinical trial. BMJ Open. 2021;11(2):e045162. doi: 10.1136/bmjopen-2020-045162. PMID: 33574155. PMCID: PMC7880092
Selzman CH, Tonna JE, Pierce J, Vargas C, Skidmore C, Lewis G, Hatton ND, Phillips JD. A pilot trial of human amniotic fluid for the treatment of COVID-19. BMC Res Notes. 2021;14(1):32. doi: 10.1186/s13104-021-05443-9. PMID: 33482902. PMCID: PMC7820830
Dickey AK, Quick C, Ducamp S, Zhu Z, Feng YA, Naik H, Balwani M, Anderson KE, Lin X, Phillips JD, Rebiez L, Bonkovsky HL, McGuire BM, Wang B, Chasman DI, Smoller JW, Fleming MD, Christiani DC. Evidence in the UK Biobank for the unederdiagnosis of erythropoietic protoporphyria. Genet Med. 2021;(1):140-148. Doi: 10.1038/s413436-020-00951-8.
Seguin A, Jia X, Earl AM, Li L, Wallace J, Qiu A, Bradley T, Shrestha R, Troadec MB, Hockin M, Titen S, Warner DE, Dowdle PT, Wohlfahrt ME, Hillas E, Firpo MA, Phillips JD, Kaplan J, Paw BH, Barasch J, Ward DM. The mitochondrial metal transporters mitoferrin1 and mitoferrin2 are required for liver regeneration and cell proliferation in mice. J Biol Chem. 2020;295(32):11002-11020. doi: 10.1074/jbc.RA120.013229. PMID: 32518166. PMCID PMC7415990
Saberi B, Naik H, Overbey JR, Erwin AL, Anderson KE, Bissell DM, Bonkovsky HL, Phillips JD, Wang B, K Singal A, M McGuire B, Desnick RJ, Balwani M. Hepatocellular Carcinoma in Acute Hepatic Porphyrias: Results from the Longitudinal Study of the U.S. Porphyrias Consortium. Hepatology. 2020;doi: 10.1002/hep.31460. PMID: 32681675
Naik H, Overbey JR, Desnick RJ, Anderson KE, Bissell DM, Bloomer J, Bonkovsky HL, Phillips JD, Wang B, Singal A, Balwani M. Evaluating quality of life tools in North American patients with erythropoietic protoporphyria and X-linked protoporphyria. JIMD Rep. 2019 Sep 14;50(1):9-19. doi: 10.1002/jmd2.12052. PMID:31741822
Crowther MD, Dolton G, Legut M, Caillaud ME, Lloyd A, Attaf M, Galloway SAE, Rius C, Farrell CP, Szomolay B, Ager A, Parker AL, Fuller A, Donia M, McCluskey J, Rossjohn J, Svane IM, Phillips JD, Sewell AK. Genome-wide CRISPR-Cas9 screening reveals ubiquitous T cell cancer targeting via the monomorphic MHC class I-related protein MR1. Nat Immunol. 2020; doi: 10.1038/s41590-019-0578-8. PMID:31959982
Naik H, Overbey JR, Desnick RJ, Anderson KE, Bissell DM, Bloomer J, Bonkovsky HL, Phillips JD, Wang B, Singal A, Balwani M. Evaluating quality of life tools in North American patients with erythropoietic protoporphyria and X-linked protoporphyria. JIMD Rep. 2019;50(1):9-19. doi: 10.1002/jmd2.12052 PMID:31741822
Chalermwat C, Thosapornvichai T, Wongkittichote P, Phillips JD, Cox JE, Jensen AN, Wattanasirichaigoon D, Jensen LT. Over-expression of the peroxin Pex34p suppresses impaired acetate utilization in yeast lacking the mitochondrial aspartate/glutamate carrier Agc1p. FEMS Yeast Res.2019; pii: foz078. PMID:31711143
Naik H, Overbey JR, Montgomery GH, Winkel G, Balwani M, Anderson KE, Bissell DM, Bonkovsky HL, Phillips JD, Wang B, McGuire B, Keel S, Levy C, Erwin A, Desnick RJ. Evaluating the Patient-Reported Outcomes Measurement Information System scales in acute intermittent porphyria. Genet Med.2019; PMID: 31690837
Pek RH, Yuan X, Rietzschel N, Zhang J, Jackson L, Nishibori E, Ribeiro A, Simmons W, Jagadeesh J, Sugimoto H, Alam MZ, Garrett L, Haldar M, Ralle M, Phillips JD, Bodine DM, Hamza I. Hemozoin produced by mammals confers heme tolerance. Elife. 2019; 8. pii: e49503. PMID:31571584
Gouya L, Ventura P, Balwani M, Bissell DM, Rees DC, Stölzel U, Phillips JD, Kauppinen R, Langendonk JG, Desnick RJ, Deybach JC, Bonkovsky HL, Parker C, Naik H, Badminton M, Stein PE, Minder E, Windyga J, Bruha R, Cappellini MD, Sardh E, Harper P, Sandberg S, Aarsand AK, Andersen J, Alegre F, Ivanova A, Talbi N, Chan A, Querbes W, Ko J, Penz C, Liu S, Lin T, Simon A, Anderson KE. EXPLORE: A Prospective, Multinational, Natural History Study of Patients with Acute Hepatic Porphyria with Recurrent Attacks. Hepatology. 2019; doi: 10.1002/hep.30936. PMID:31512765
Parker CJ, Desnick RJ, Bissel MD, Bloomer JR, Singal A, Gouya L, Puy H, Anderson KE, Balwani M, Phillips JD. Results of a pilot study of isoniazid in patients with erythropoietic protoporphyria. Mol Genet Metab. 2019; pii: S1096-7192(18)30575-4. doi: 10.1016/j.ymgme.2019.07.017. PMID:31395332
Phillips JD. Heme biosynthesis and the porphyrias. Mol Genet Metab. 2019; pii: S1096-7192(18)30586-9. doi: 10.1016/j.ymgme.2019.04.008. Review. PMID:31326287
Chen B, Whatley S, Badminton M, Aarsand AK, Anderson KE, Bissell DM, Bonkovsky HL, Cappellini MD, Floderus Y, Friesema ECH, Gouya L, Harper P, Kauppinen R, Loskove Y, Martásek P, Phillips JD, Puy H, Sandberg S, Schmitt C, To-Figueras J, Weiss Y, Yasuda M, Deybach JC, Desnick RJ. International Porphyria Molecular Diagnostic Collaborative: an evidence-based database of verified pathogenic and benign variants for the porphyrias. Genet Med.2019; 21(11):2605-2613.
Chen B, Solis-Villa C, Erwin AL, Balwani M, Nazarenko I, Phillips JD, Desnick RJ, Yasuda M. Identification and characterization of 40 novel hydroxymethylbilane synthase mutations that cause acute intermittent porphyria. J Inherit Metab Dis. 2019; 42(1):186-194. PMID: 30740734
Phillips JD, Desnick RJ, Anderson KE. Harderoporphyria: Case of lifelong photosensitivity associated with compound heterozygous coproporphyrinogen oxidase (CPOX) mutations. Moghe A, Ramanujam VMS. Mol Genet Metab Rep. 2019; 19:100457. PMID:30828546 PMCID:PMC6383327
Chacko B, Culp ML, Bloomer J, Phillips J, Kuo YF, Darley-Usmar V, Singal AK.Feasibility of cellular bioenergetics as a biomarker in porphyria patients. Mol Genet Metab Rep. 2019; 19:100451. PMID:30740306 PMCID:PMC6355507
Sardh E, Harper P, Balwani M, Stein P, Rees D, Bissell DM, Desnick R, Parker C, Phillips J, Bonkovsky HL, Vassiliou D, Penz C, Chan-Daniels A, He Q, Querbes W, Fitzgerald K, Kim JB, Garg P, Vaishnaw A, Simon AR, Anderson KE. Phase 1 Trial of an RNA Interference Therapy for Acute Intermittent Porphyria. N Engl J Med. 2019; 380(6):549-558. PMID:30726693
Yasuda M, Gan L, Chen B, Yu C, Zhang J, Gama-Sosa MA, Pollak DD, Berger S, Phillips JD, Edelmann W, Desnick RJ. Homozygous hydroxymethylbilane synthase knock-in mice provide pathogenic insights into the severe neurological impairments present in human homozygous dominant acute intermittent porphyria. Hum Mol Genet. 2019; PMID:30615115