Michael (Seungju) Yu
Professor of
Biomedical Engineering

and
Adjunct Professor of Pharmaceutics and Pharmaceutical Chemistry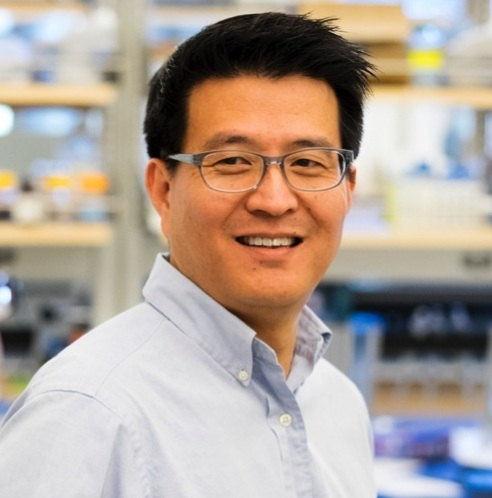 B.S. Korea University
Ph.D. University of Massachusetts at Amherst
Michael Yu's Lab Page
Michael Yu's PubMed Literature Search
Biological Chemistry Program
Drug delivery, Tissue engineering, Regenerative medicine, Biopolymers, Collagen, Peptide
Research
My research interests lie in the development of protein/peptide-based materials and molecular probes that are either inspired by or derived from biological systems. With particular emphasis on applying principles of protein folding and assembly to bio and nano-technology, my research group has been working on a range of research topics from new diagnostic/therapeutic molecules and natural tissue scaffolds to self-assembled nanostructures and piezoelectric fibers. My research group (recently relocated from Johns Hopkins to University of Utah, now occupying state-of-art Sorenson Molecular Biotechnology Building) has developed a new peptide probe-based technology for targeting collagens. This work is considered a breakthrough in collagen detection (published in over 25 peer-reviewed journals in the last 5 years, including PNAS, JACS, and Nature Commnun.) for its ability to specifically bind to collagens denatured by proteinase or by mechanical damage both in vitro and in vivo. The most exciting discovery in our research since coming to the University of Utah is finding out that collagen hybridizing peptide can be conjugated to drug molecules small or large and have it delivered to pathologic tissues.
References
Lucas Bennink, B. J. Kim, B. H. San, I. Shin, D. Yoon, Y. Li and S. M. Yu (2018) "Visualizing collagen proteolysis by peptide hybridization: from 3D cell culture to in vivo imaging" Biomaterials, 183, 67-76.
San BH, Hwang J, Sampath S, Li Y, Bennink, LL, and Yu SM (2017) "Self-assembled water-soluble nanofibers displaying collagen hybridizing peptides" J. Am. Chem. Soc., 139, 16640-49.
Zitnay JL, Li Y, Qin Z, San B-H, Depalle B, Reese SP, Buehler MJ, *Yu SM, and *Weiss JA (2017) Molecular level detection and localization of mechanical damage in collagen enabled by collagen hybridizing peptides. Nature Communications, 8, 14913. (*co-corresponding authors) PMC3443117.
Hwang J, Huang Y, Burwell TJ, Peterson NC, Connor J, Weiss SJ, Yu SM, Li Y (2017). In Situ Imaging of Tissue Remodeling with Collagen Hybridizing Peptides. ACS Nano, doi: 10.1021/acsnano.7b03150.
Wahyudi H, Reynolds AA, Li Y, Owen SC, and Yu SM (2016) Targeting collagen for diagnostic imaging and therapeutic delivery" J. Control. Release, 240, 323. PMC4936964 (invited review paper).
Y. Li, C. A. Foss, D. D. Summerfield, Jefferson J. Doyle, Collin M. Torok, Harry C. Dietz, M. G. Pomper and S. M. Yu (2012) Targeting Collagen Strands by Photo-Triggered Triple Helix Hybridization. Proc. Nat. Acad. Sci. USA, 109, 14767. PMC3443117.