Meet Deeptha!
Deeptha Vasudevan, Dorsky Lab (Neurobiology & Anatomy)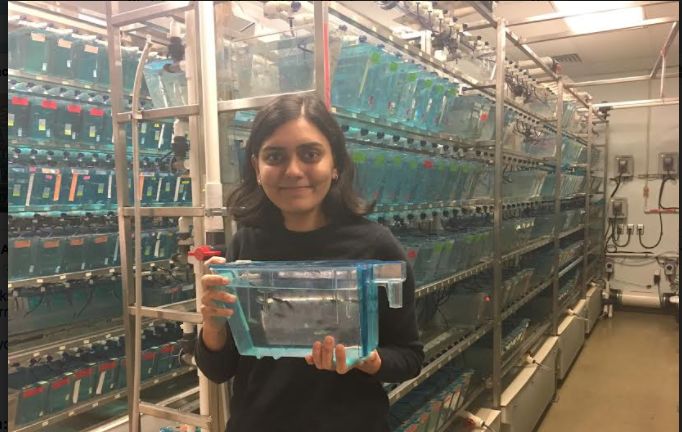 Where are you on your graduate school journey... close to defending? Defended?
I am defending in the spring semester (spring 2020).
What are you planning to do/doing after graduation? Industry? postdoc? other?
Postdoc. Already have some leads about the labs I plan to apply to, but I haven't interviewed yet.
What has helped you get through to a successful graduate career?
Supportive advisor, an advisory committee that is incredibly invested and a department and lab environment that fosters collaboration.
Letter or Advice to my younger self? Do's and don'ts...
Projects change their direction and focus quite a bit, so it's important to not get disheartened. It's tough to keep up with the flow sometimes, but make sure to sit down every few months and put data together and think about what the paper you are writing will look like. It's important to work hard, but remember that not everything can be accomplished by brute force.
You don't have to do it all alone. I try really hard to be comfortable asking for help when I need it, but I feel that we don't efficiently use half of the resources available to us. I would say building a relationship with members of my advisory committee for extra help and advice, attending workshops on how to make figures or models and write papers are two things I'm glad I did. Graduate school can get overwhelming and we often just assume that it's our job to do everything, but remember that there's always help available.
Tell me a little about yourself.
I am from a big city called Chennai on the coast of Southern India. I got a bachelor's degree in Biotechnology from SASTRA University. I worked for several labs as an undergrad, and I realized that I enjoyed research, and hence decided to get a PhD. My research interests include neurogenesis, genetics, behavior, systems neuroscience and developmental biology.
Tell me about your lab. What do you study?
I study spinal cord injury in larval zebrafish. Mammalian spinal cords are incapable of repair after injury, but zebrafish show a robust regenerative response throughout life. As a graduate student in the Dorsky lab, I study neurogenesis in the larval zebrafish following spinal cord injury, and I'm using a unique combinatorial approach to genetically label neurons born after injury so that I can study their necessity in behavioral recovery, functionality and identity.
Why did you choose to join your lab?
When I was picking a thesis lab, the two most important criteria for me were the general scientific field that the lab focuses on, and mentorship. I picked my thesis lab based on the type of scientific questions that the lab works on, and not based on a particular project. Additionally, my graduate advisor, Rich Dorsky is supportive, nurtures new ideas and fosters independent research. He develops an individual mentoring strategy with each one of us, and is always available when we need help or advice. I have benefited from having a structured set of meetings to track progress and receive feedback.
Why did you choose the U for graduate school?
The U has a strong reputation as a public research university. More importantly, the bioscience PhD program is a well-established umbrella program with over 120 labs to choose from. Additionally, the quality of life of graduate students seemed much better here than other schools that I applied to.
What do you like the most about living in Salt Lake City?
Salt Lake City is affordable and beautiful, surrounded by mountains and canyons with easy access to trails and national parks. I love the perfect mix of outdoors and city life that I enjoy here. I do not own a car, and I have lived quite comfortably in Salt Lake for almost three years, which is a reflection on the excellent public transit system.
What do you like the least?
Salt Lake City is not very big or diverse, but it is growing steadily. As a vegetarian, my food options are not as abundant as they would be in bigger cities on the east or west coast. However, the food scene has definitely improved in the three years that I've lived here.
What do you like most about being a graduate student?
I enjoy learning and deciphering the mechanics of biological processes. I value the training that we receive in grad school, and I am grateful to have a supportive mentor, a challenging project and an enriching learning environment in lab. I also love attending seminars and research in progress talks, because I'm constantly awed by all the world-class scientific research projects on campus.
What do you like the least?
As an international student, graduate fellowship opportunities are harder to come by. I think of fellowships as not just financial support for research but opportunities to take bigger steps and pursue some high-risk questions in lab.
What does a typical weekday look like for you?
I typically get to lab in time to pull dividers from my zebrafish mating tanks, around 8.30 or 9am. My day generally consists of a good mix of fish work and molecular biology experiments in lab. On an average, I attend around 3 or 4 seminars a week. I try to get home around 7 or 8pm, but my schedule depends largely on my experiments.
What does a typical weekend look like for you?
I generally Skype with my family in India on weekends. I do my chores for the week (laundry/ grocery shopping/ cooking/ cleaning). Some weekends, I go to lab to finish up experiments. I try to always save half a day a week for activities I enjoy (hiking, biking or running). If it's too cold outside to do any of those things, I curl up in my pajamas with a good book. Some weekends, my friends and I plan dinners or lunches outside, or we hang out at each other's apartments to play board games or snuggle with pets.
What advice would you give to someone applying and interviewing for graduate school?
Our interests are often shaped by familiarity with labs and projects from college, but it is important to remember that there are a lot of different areas of research in Biosciences. While picking a school, it is important to talk to graduate students in the program to judge the quality of research and evaluate how happy they are. It is essential to identify a school where you will be a good fit, and where you can picture yourself living comfortably for the next five or so years.