Meet Igal Sterin!
Park Lab (Neurobiology)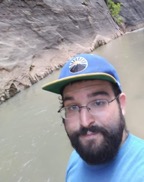 Tell me a little about yourself
Most recently I was in San Francisco, before that in Vancouver BC, Seattle WA, Sugarland TX, and I started life in Israel. I have a degree in psychology with a minor in biochemistry from the University of British Columbia and a Biotechnology Lab Assistant Certification from the City College of San Francisco. I spent two years in the lab of Wendell Lim at UCSF working on engineering primary human T cells for adoptive immunotherapy. I was planning on transitioning to industry, but my time in an academic lab inspired me to pursue graduate training.
Why did you choose the U for graduate school?
There are 2 reasons I chose the U. First off, I love nature and the beauty of SLC and UT in general is undeniable. The second reason is the work-life balance and sense of community that is fostered at the U. I felt it when I visited and have not been disappointed. The faculty are interested in developing their students and collaborations, willing to share resources and devote the time to mentoring. The program office is helpful, and all the necessary information to succeed is communicated effectively.
­Tell me about your lab.
I joined the lab of Sungjin Park, in the Department of Neurobiology and Anatomy. Sungjin is investigating how the tectorial membrane of the ear forms as well as identifying new synaptogenic factors that regulate early synapse development. We are comparing synapse development of different classes of neurons in the mouse brain, as well as starting a project to identify/verify these factors in human neurons using an IPSC model in collaboration with the Shcheglovitov lab.
Why did you choose to join your lab?
I chose the lab because Sungjin is a great mentor. He is easy to get along with, and he has many ideas that I find interesting. The science is interesting, and the lab members get along well. The science is exciting, and I like cell culture, so I wanted a lab that cultured neurons.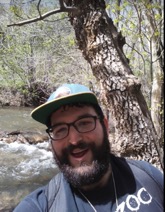 What do you like the most about living in Salt Lake City?
How close it is to the mountains. You can do a 2-3 hour hike and still have the majority of your day, or go on a hike in the late afternoon after work. Skiing is a forty-minute drive, there are like 10 national parks/national monuments within a four-hour drive, and state parks that anywhere else could be national parks.
What do you like the least?
It gets quite a bit hotter than I am used to in the summer and I must apply sunscreen regularly. That's my main complaint.
What do you like most about being a graduate student?
I really appreciate the flexibility that graduate life entails. I also enjoy the independence of pushing my own projects forward and taking responsibility for the progress. It is a growing process and really makes me reflect on the importance of the work to me.
What types of things do you do outside of class and lab?
I like to ski, hike, dance, and see music. During the winter I try to go skiing at least twice a month, but sometimes go every week. There is hiking right behind the U, and tons of hiking all along the Wasatch. I like to go out with colleagues in the program and dance, and try to go see live music at least once a month. Music is good for the soul. Also, I like to zone out to some good TV, and read some sci-fi or non-fiction.
What does a typical weekday look like for you?
I come to lab before 10 am and do reading for about an hour or so till the coffee really starts working. Then I will do some experiments, get some lunch and do some more. I go home around 6 or 7, make dinner and watch TV/read. About once a week I try and either host people at our home, or go out to dinner with some friends.
What does a typical weekend look like for you?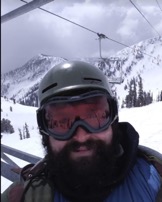 On weekends we are either going camping for the whole weekend, or doing at least one hike. There is so much to explore, my girlfriend and I are trying to see as much of Utah and the surrounding area as we can in our time here. If we aren't camping, we like to explore different cuisine either at home or at the amazing restaurants in the area. We may go out, see a comedy show, a movie, a concert, or a chill night at the bars with friends. And then we take a lazy Sunday at home, cleaning, reading, and watching some TV.
What advice would you give to someone applying and interviewing for graduate school?
For applications: Follow the advice of your mentors, you are making yourself look good on paper. Tailor the application to the feeling you get from the program's website.
For Interviews: The bioscience faculty are looking for a good fit, not necessarily the most achieving individuals. We want to foster a community here, so we are looking for people who we would want to work with. The most important thing is an obvious love of science and a desire to discuss it with others. Your ability is not in question, you have already proven your potential, now the interview is are you good fit for the campus culture.