Meet Mike Faust!
Evavold Lab (Microbiology & Immunology)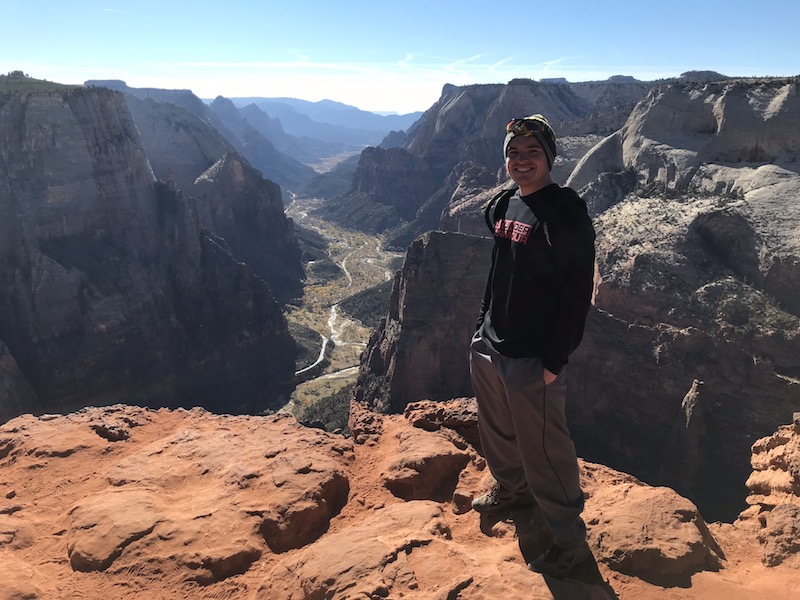 Tell me a little about yourself. Where are you from, what degree(s) do you have? What are your interests?
I'm from Philly and received my BA in Chemistry from Kalamazoo College, which is in Kalamazoo, MI. I played football in undergrad and still pay pretty close attention to college football. I'm super interested in health and nutrition, and my free time is spent hiking, skiing, playing basketball, or training my puppy Luna!
Why did you choose the U for graduate school?
I chose The U due to its close proximity to the mountains. I value work/life balance, and my fulfillment comes from physical activity. I also wanted a cool, exciting place to explore during my graduate studies. The U was perfect!
Tell me about your lab. What do you study?
I work in a T cell immunology lab operated by Dr. Brian Evavold. We study T cells in a variety of disease contexts with the overall goal of understanding how T cell activity can go awry leading to autoimmunity. My project investigates the role of CD8 T cells in an animal model of multiple sclerosis. I am also investigating a therapeutic avenue for antigen-specific treatment of auto-reactive T cells.
Why did you choose to join your lab?
I chose to join the Evavold Lab due to my growing interest in immunology and the vast array of projects to chose from within the lab. I also got along with Brian very well!
What do you like most about living in Salt Lake City?
I absolutely love the combination of outdoor activity and urban life. I was a city dweller growing up, so exploring the outdoors was (and in most ways still is) new to me! It gave me the perfect outlet for exploring new opportunities while maintaining my urban comfort. There is always something to do here, and the beer is pretty good, too!
What do you like the least?
There are times that I miss my friends and family, as many of them reside in Michigan and in Philly! However, I've since met lots of wonderful people during my time here in Utah.
What do you like most about being a graduate student?
Being a graduate student is certainly challenging, but overcoming those challenges and (finally) getting good data is rejuvenating and fun! I also really enjoy the community of grad students here, especially maintaining the friendships I made during my first year in the BC/MB program.
What types of things do you do outside of class and lab?
Outside of lab you can catch me being active (working out, hiking, skiing, basketball) or simply hanging out with my friends and my puppy. On those lazy nights, I'm a huge advocate for Netflix (studies show The Office is the best way to unwind). I can also be found with a nose stuck in a book whenever I'm feeling extra nerdy.
What does a typical weekday look like for you?
Typically on a weekday, I walk my dog, go to lab, do experiments and other science things, some form of exercise, and work on training my pup! The Office can be substituted for either of the exercises depending on the day!
What does a typical weekend look like for you?
On the weekends I try to get outside! I love exploring new hikes, and they're a great way to catch up with some friends! Afterwards, I like to go out for food and sometimes have a couple of beers!
What advice would you give to someone applying and interviewing for graduate school?
I would advise you to envision yourself living in that environment, especially
outside of lab! Lab is important, and good science can be found in a variety of places. Find somewhere you will be
comfortable living so that your time off is well spent! You want to enjoy this process while you're living it!