Meet Andrew Shepherd!
Mendoza Lab (Oncological Sciences)

Tell me a little about yourself. Where are you from, what degree(s) do you have? What are your interests?
I'm originally from the Appalachian Mountains of Virginia, but I spent most of my life in Colorado. In 2015 I earned a B.S. in biology, from Bridgewater College, with specific interest in immunology. Currently, I'm a 2nd year biosciences student in oncological sciences.
Why did you choose the U for graduate school?
To gain more research experience before applying to grad schools, I ended up in Utah working as a lab technician. After working here for a year, I knew this was the place I wanted to stay. Admittedly, I only applied to schools with nearby access to mountains. However, Utah stood out as having a friendly and collaborative atmosphere amidst rapidly expanding biosciences resources.
Tell me about your lab. What do you study?
Michelle Mendoza's lab studies the biochemical signals that drive cell motility and how they affect invasion and metastasis in the progression of cancer. We look at cancers with KRAS and BRAF mutations and whether ERK/RSK signaling promotes invasion. We use a variety of microscopy techniques to study the effects of this signaling in the formation of focal adhesions and the great effects relating to cell motility.
Why did you choose to join your lab?
During the first year of the biosciences program, we rotate through three labs, and then chose one of those labs to join. I rotated in the Mendoza lab as a sort of "wild card" choice, but I ended up finding it the most satisfying and interesting of all the labs I had considered. I chose to join the Mendoza lab because it offered the right combination of several factors. I found lab mates with personalities I can easily collaborate with, quality mentorship from the PI and other, more experienced lab members, research topics I'm personally interested in, and a healthy balance of work and life.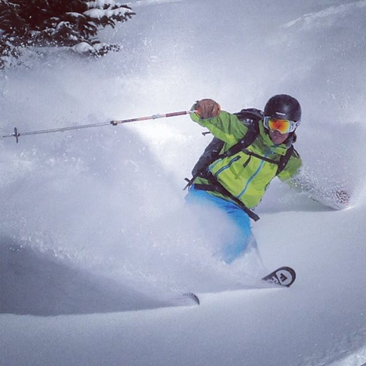 What do you like the most about living in Salt Lake City?
Salt Lake City offers nearly instant access to the mountains. Along with the lack of traffic congestion, I can get out and play whenever my schedule allows. I also like that SLC is a smaller city that doesn't overwhelm me. The people are friendly and everything you might need isn't too far away.
What do you like the least?
I don't have any real complaints, but if I must, it's that my lab is at the very top of campus. As bike commuter, it means that I need to plan my day around not having quick access to the city and going to work early to avoid the summer heat. However, it's also my choice to ride and I generally enjoy commuting by bike, year-round.
What do you like most about being a graduate student?
I enjoy that the graduate student experience is what you make it. The more you want to do, the more people make sure you have the resources and support to do it. It's up to me to complete work I'm expected to do, but with that, there is freedom and flexibility to create the balances in life that work for me.
What types of things do you do outside of class and lab?
I think it's pretty obvious that I'm fairly obsessed with an outdoor lifestyle. Seasonally, I'm either backcountry skiing, mountain biking, or road biking. If I'm not playing outside, I might be cooking, reading, or just generally tinkering with projects at home.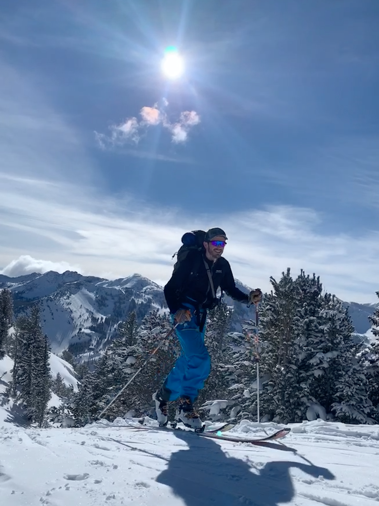 What does a typical weekday look like for you?
I typically wake up really early so I have time to enjoy my coffee, listen to NPR, or read for lab. In the winter, I occasionally sneak in some skiing and still make it into lab by 10am. I usually get to lab before 7:30am, and the days vary. Some days I'll work until the evening and some days I leave earlier. In the winter I go to the gym after work, and in the summer, if I am able to leave early enough, I'll go for a ride.
What does a typical weekend look like for you?
I often work in the lab on the weekends, but usually not for more than a few hours, and rarely on both days. I'm happy to spread out my work over the whole week, so long as I can maintain a healthy balance. Otherwise, on the weekends I plan my major adventures in the mountains.
What advice would you give to someone applying and interviewing for graduate school?
First, be honest with yourself about why you want to go to grad school and what you expect to get out of your experience there. The people reading applications and interviewing candidates have seen it all and they can pick out people who understand what they are signing up for. Learning to ask good questions is critical in science, as well as just getting into grad school. This also means being well-informed, so do some background research on the program and the faculty you might meet. Finally, be willing to explore all of the opportunities the program provides. You might already know what you want to study, and that's great, but don't let other opportunities to learn about and do new things pass you by.