Meet Trinity Waddell!
Roh-Johnson Lab (Biochemistry)

Tell me a little about yourself. Where are you from, what degree(s) do you have? What are your interests?
I was born in Hawaii and raised in the Houston area of Texas. I graduated with a BS in Biomedical Science from BYU-Hawaii and an MS in Physiology and Developmental Biology from BYU. Currently, my interests are playing soccer when I can and spending time with my wife and son
Why did you choose the U for graduate school?
The umbrella program attracted me, but the attitude of the professors and the students helped me realize what a great training environment it would be.
Tell me about your lab. What do you study?
In the Roh-Johnson lab, I'll be studying macrophage communications. It's a great lab with an-on-the-ball PI and supportive, collaborative, and fun trainees!
Why did you choose to join your lab?
The research done in the lab was interesting to me. Most importantly, I felt that the environment and training style of the PI were conducive to my growth as a scientist.
What do you like most about living in Salt Lake City?
It's a nice small city with a friendly personality. It's also really nice to be able to quickly and easily escape the city into the mountains.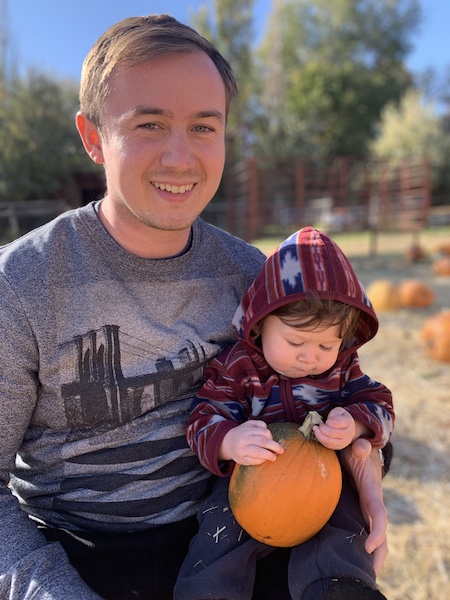 What do you like the least?
Inversion is an issue especially if you happen to be sick.
What do you like most about being a graduate student?
It's cool having large projects to work towards and a system set up to help you succeed and learn to manage them on your own.
What types of things do you do outside of class and lab?
Most of the time it's just hanging out with my wife and son! I like to play soccer and my wife and I love to go Latin dancing together. A zoo membership is great for us and the little guy!
What does a typical weekday look like for you?
Having a family I try to structure my weeks as much as possible. My weekdays are 8-5 in the lab which could be reading papers, writing, or bench work. There are times when bench work requires extra.
What does a typical weekend look like for you?
Weekends, I rarely have to go into the lab. Generally, it would be because of a lack of planning or a big project needing to get done. Family activities, day trips, and church fill up my weekends.
What advice would you give to someone applying and interviewing for graduate school?
Look for places that most closely match your research interests, but that should be secondary to the training style. Learn how you learn best and how to recognize an environment that will facilitate that. For interviews, just be happy to be there, excited to talk about science, and humble enough to learn from the people you're talking with.