Meet Gennie Parkman!
McMahon & Holmen Lab (Oncological Sciences)

Tell me a little about yourself. Where are you from, what degree(s) do you have? What are your interests?
I'm originally from Missouri, but after marrying my husband, Randy, in 2014, we moved to Utah for his career. I have a Bachelor's in Cell and Molecular Biology and knew I wanted to pursue my PhD. I was lucky to find a wonderful research-focused institution, where I could work as a technician to obtain more experience before applying to graduate school. I have two beautiful kids, Grant (4) and Lydia (1 ½), and though it's challenging, juggling a family and working on my PhD, it's been so worthwhile.
Why did you choose the U for graduate school?
I chose the U for graduate school because of its focus on you as a person. When I was applying and told various faculty members about my family, they all supported my decision to pursue further education while being a mom. In addition, I am constantly impressed by the collaborative nature and caliber of research. Not to mention, the students, staff, and faculty are all top-notch.
Tell me about your lab. What do you study?
I am co-mentored by two awesome principal investigators—Martin McMahon and Sheri Holmen in Oncological Sciences. I study the PI3K cell signaling pathway and its role in melanoma initiation and progression. My thesis is devoted to elucidating the role of this pathway in MAPK-driven melanoma as upregulation of PI3K lipid effectors contributes to current treatment primary and secondary resistance.
Why did you choose to join your lab?
Both of my mentors are leaders in their field and are incredibly supportive. They collaborate with each other and so many others to drive the best, most high-impact research. I worked as a technician for Sheri for two years before applying to graduate school, and she was so supportive about my decision to go to graduate school, and she helped me prepare and grow as a scientist. I had the opportunity to work with Martin during that time, as well, and I was so impressed with his lab team and mentorship that I asked to work on a project that would be collaborative between the two labs. It has been the best experience!
What do you like most about living in Salt Lake City?
Living in a big city but with such beautiful nature surrounding you! I can't imagine a prettier place to live and raise my family with incredible places to hike, bike, ski, and more.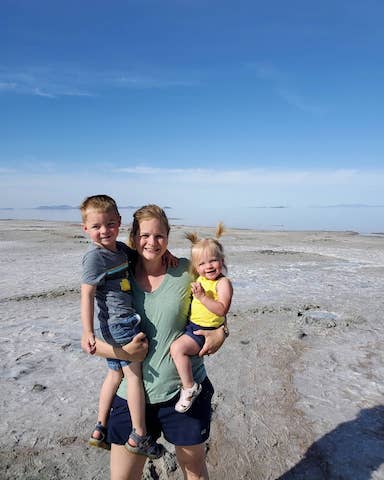 What do you like the least?
Being so far away from my parents and siblings! Thankfully, my little brother, Chris, came to college here for undergrad because he was just as impressed as I by this school!
What do you like most about being a graduate student?
In the past year especially, I have truly been able to understand how to think critically as an independent scientist, and there is nothing like that feeling. Sometimes it feels like you are juggling a million things, and none of your experiments are working, but when you can read the literature and pinpoint the most crucial questions that need to be answered, the growth you feel as a scientist is unmatched. I have also loved the community I work within. As a graduate student, you have the opportunity to work one-on-one and learn from leaders in the field
What types of things do you do outside of class and lab?
My family loves to do almost everything outdoors, and there are so many opportunities in Utah. We are always hiking, camping, canoeing, or biking!
What does a typical weekday look like for you?
Outside of COVID-19, I wake up around 5:30-6, get the kids and myself ready, and head out the door around 7:30. After dropping them off at daycare, I usually make it into lab around 8:30 or 9 and work until 5. Then, it's time to pick the kids up, make dinner, play for a while, put them to bed, and then either work some more and/or relax with my husband binge-watching a show.
What does a typical weekend look like for you?
Depending on my husband's schedule, he usually watches the kids for a few hours, so I can do a few things in the lab and keep experiments running. Sometimes they even come and meet me at work for lunch. Then, I try to put work aside for the rest of the weekend, catch up on household chores, and spend as much time with my family as I can, especially outdoors.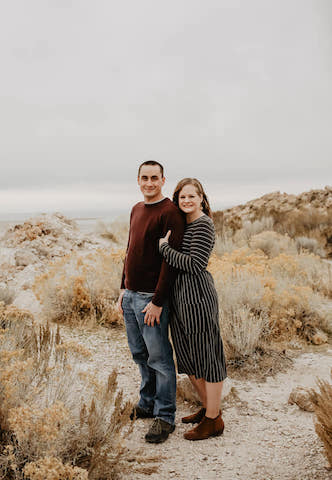 What advice would you give to someone applying and interviewing for graduate school?
Make sure you find a program where you feel comfortable with the faculty. It can be intimidating to ask questions and approach well-established and brilliant scientists, but these are the people you are learning from and helping you to grow as a critical thinker. You should even reach out to labs you are interested in before applying to graduate school to find out more about opportunities and how best to prepare for your upcoming years!