Faculty Research - Molecular Biology and Biological Chemistry
With more than 190 participating faculty, students have a variety of lab rotation choices in their first year of graduate study. Lab rotations are essential for identifying the appropriate thesis mentor and lab. In addition, lab rotations expose students to a wide variety of research areas and experimental techniques, and enable students to develop a network of research contacts.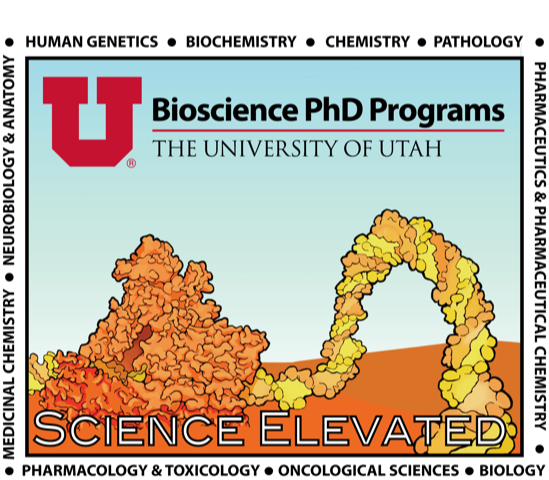 Illustration By: Megan Okada
FILTERS AND SORT OPTIONS ARE AVAILABLE BELOW TO HELP FIND FACULTY AND RESEARCH LABS OF INTEREST.
| Name | Program | Department | Research | Research Track | Interest Groups |
| --- | --- | --- | --- | --- | --- |
| Andersen, Josh | MB, BC | Oncological Sciences | Cell Signaling, Molecular Mechanisms, Kinase Regulation, Autophagy, Cell Survival, Cell Growth | | |
| Babst, Markus | MB, BC | School of Biological Sciences | Protein Trafficking | Biochemistry | Biochemistry/Structural Biology, Cancer/Cell Biology |
| Balagurunathan, Kuby | BC | Medicinal Chemistry | Glycobiology, Glycomedicine, and Carbohydrate Biosynthesis, Chemical Biology of Heparan Sulfate Proteoglycan | Chemical Biology/Medicinal Chemistry | |
| Bandarian, Vahe | BC | Chemistry | biosynthesis, enzymes, modified transfer RNA base, queuosine, ubiquitous RNA modification | Biochemistry, Chemical Biology/Medicinal Chemistry, Structural Biology/Biophysics | |
| Barrios, Amy | BC | Medicinal Chemistry | Protein Phosphorylation, Chemical Probe Development, Metals in Medicine | Chemical Biology/Medicinal Chemistry | |
| Barrows, Lou | BC | Pharmacology and Toxicology | Natural products drug discovery, anti-cancer and anti-infective agents | Chemical Biology/Medicinal Chemistry | |
| Basham, Kaitlin | MB | Oncological Sciences | Cellular Senescence, Wnt Signaling, Adrenal Cancer, Mouse Models of Cancer, Developmental Biology | | Cancer/Cell Biology, Developmental Biology |
| Bass, Brenda | MB, BC | Biochemistry | Double-Stranded RNA (dsRNA), RNA Editing, RNA Interference, DICER | Biochemistry | Biochemistry/Structural Biology, Developmental Biology, Gene Expression, Microbiology/Immunology |
| Beaudin, Anna | MB | Microbiology and Immunology | Fetal Hematopoiesis, Blood Production, Immune Development, Developmental Origin of Disease | | Microbiology/Immunology |
| Bettini, Maria | MB | Microbiology and Immunology | T cell autoimmunity and metabolism | | Microbiology/Immunology |
| Bettini, Matthew | MB | Microbiology and Immunology | Autoimmunity, Central Tolerance, Thymic Development, Tolerance to Microbiota, Chimeric Antigen Receptors (CARs) | | Cancer/Cell Biology, Developmental Biology, Microbiology/Immunology |
| Bidone, Tamara | MB, BC | Biochemistry | Biophysics, Molecular Dynamics Simulations, Coarse-graining,Agent-based Modeling, Protein Structure-function Relationship | | |
| Blair, David | MB, BC | School of Biological Sciences | Bacterial Motility | Biochemistry | Biochemistry/Structural Biology, Microbiology/Immunology |
| Bonkowsky, Josh | MB | Neurobiology | Function of Human Disease Genes in CNS Development | | Developmental Biology |
| Bortolato, Marco | BC | Pharmacology and Toxicology | Neurobiology, Drug Development for Impulse-Control and Neurodevelopmental Problems | | |
| Boudina, Sihem | MB | Nutrition and Integrative Physiology | Obesity, Oxidative Stress, Insulin Resistance, Autophagy, Adipose Progenitors | | Biochemistry/Structural Biology, Developmental Biology |
| Brasch, Julia | MB, BC | Biochemistry | Synaptic organization, cell-cell adhesion, structural biology, electron cryo-tomography, cryo-EM, X-ray crystallography, Biophysics | Biochemistry, Structural Biology/Biophysics | Biochemistry/Structural Biology, Neurobiology |
| Brennan, KC | MB | Neurobiology | Optical and electrophysiological investigation of the basic mechanisms of migraine | | |
| Brown, Jessica | MB | School of Biological Sciences | Pathogenesis, Fungal Genetics, Host-Pathogen Interaction | | Microbiology/Immunology |
| Buck, Bethany | MB, BC | Chemistry | Structural Biology, Biophysics, and Cancer Epigenetics | Biochemistry, Structural Biology/Biophysics | Biochemistry/Structural Biology, Cancer/Cell Biology, Gene Expression |
| Buckley, Shannon | MB | Oncological Sciences | Leukemia, Lymphoma, Hematopoietic Stem Cells, Ubiquitination, Proteomics | | |
| Bulaj, Greg | BC | Medicinal Chemistry | Molecular-Behavioral Combination Therapies; Epilepsy; Cancer; Digital Health; Mobile Medical Apps | Chemical Biology/Medicinal Chemistry | |
| Cairns, Brad | MB, BC | Oncological Sciences | Chromatin Transcription, Genomics, Gene Expression | Biochemistry | Biochemistry/Structural Biology, Developmental Biology, Gene Expression, Microbiology/Immunology |
| Camp, Nicola | MB | Human Genetics | Statistical Genetics & Genetic Epidemiology | | Genetics |
| Cao, Erhu | MB, BC | Biochemistry | Ion channels, receptors, structural biology, cryo-EM, and renal disease | Biochemistry, Structural Biology/Biophysics | Biochemistry/Structural Biology |
| Capecchi, Mario | MB | Human Genetics | Mammalian Development, Human Pathology from Cancer to Neuropschiatric Disorders | | Cancer/Cell Biology, Developmental Biology, Genetics |
| Carey, Allison | MB | Microbiology and Immunology | Mycobacteria, Tuberculosis, Microbial Genomics, Antibiotic Resistance, Virulence | | Microbiology/Immunology |
| Caron, Sophie | MB | School of Biological Sciences | Drosophila Melanogaster, Mushroom Body, Multisensory Integration, Sensory Systems, Connectomics, Learning and Memory | | Developmental Biology, Genetics, Neurobiology |
| Cazalla, Demian | MB, BC | Biochemistry | Functions and Mechanisms of Non-Coding RNAs | Biochemistry | Biochemistry/Structural Biology, Gene Expression, Microbiology/Immunology |
| Chaix, Amandine | MB | Nutrition and Integrative Physiology | Physiology, Metabolism, Nutrition, Time-Restricted Feeding (TRF), Circadian clock, Aging | | |
| Chaudhuri, Dipayan | MB, BC | Biochemistry | Mitochondria, heart failure, ion channels, calcium channels, mitochondrial diseases, voltage-clamp electrophysiology, metabolism, calcium imaging, mitochondrial calcium uniporter | Biochemistry, Structural Biology/Biophysics | Biochemistry/Structural Biology, Cancer/Cell Biology, Developmental Biology, Gene Expression |
| Cheatham, Thomas | BC | Medicinal Chemistry | Biomolecular Simulation, Computational Chemistry | Chemical Biology/Medicinal Chemistry, Structural Biology/Biophysics | |
| Chen, Mingnan | BC | Molecular Pharmaceutics | Peptides, Host Immune Systems Peptide Materials | Biochemistry | |
| Chow, Clement | MB | Human Genetics | Genetic variation, ER stress, Disease modifiers | | Genetics |
| Dale, Colin | MB | School of Biological Sciences | Microbiology and molecular evolution, insects and endosymbionts | | Gene Expression, Genetics, Microbiology/Immunology |
| Davis, Darrell | MB, BC | Medicinal Chemistry | RNA Structure/Function | Chemical Biology/Medicinal Chemistry | Biochemistry/Structural Biology |
| Deans, Michael | MB | Neurobiology | Developmental Neurobiology, Hearing and Balance, Planar Cell Polarity, Axon Guidance | | Developmental Biology, Neurobiology |
| Deans, Tara | MB, BC | Molecular Pharmaceutics | Synthetic Biology, stem cells, delivery systems, and regeneration | | |
| DePaula-Silva, Ana Beatriz (Bia) | MB, BC | Pharmacology & Toxicology | Neurovirology, Neurobiology, Neuroinflammation, CNS Viral Infection, Mouse Models, Seizures, Epilepsy, Multiple Sclerosis, Immune Response | | |
| Diehl, Katharine | MB, BC | Medicinal Chemistry | Chromatin and Histone Modifications, Epigenetics and Metabolism, Protein Chemistry, Metabolite Sensors | Biochemistry, Chemical Biology/Medicinal Chemistry | Biochemistry/Structural Biology, Cancer/Cell Biology, Gene Expression |
| Dorsky, Rich | MB | Neurobiology | Developmental Neurobiology | | Developmental Biology, Neurobiology |
| Douglass, Adam | MB | Neurobiology | Neuronal Function, optical methods | | Neurobiology |
| Drakos, Stavros | MB | Nutrition and Integrative Physiology | | | |
| Drummond, Micah | MB | Microbiology and Immunology | Aging, Muscle, Inflammation, Exercise, Nutrition, Metabolism, Translational Research | | Microbiology/Immunology |
| Ducker, Greg | MB, BC | Biochemistry | Cancer Metabolism, Mass Spectrometry, Antimetabolites, Chemical Biology, Mitochondria, Tetrahydrofolates | Biochemistry, Chemical Biology/Medicinal Chemistry | Biochemistry/Structural Biology, Cancer/Cell Biology |
| Edgar, Bruce | MB | Oncological Sciences | Cell Growth, Cell Cycle, Regeneration, Drosophila, Stem Cells, Organoids | | Cancer/Cell Biology, Developmental Biology, Gene Expression, Genetics |
| Eilbeck, Karen | MB | Human Genetics | Bioinformatics Research | | Genetics |
| Elde, Nels | MB | Human Genetics | Evolutionary Cell Biology, Virology, Microbiology, Genetics, Genome Science, Experimental Evolution | | Genetics |
| English, Justin | MB, BC | Biochemistry | Directed evolution, protein engineering, molecular tool development, synthetic biology, pharmacogenomics, G-protein coupled receptors, cell signaling, neuroscience | Biochemistry | Biochemistry/Structural Biology |
| Evason, Kimberley | MB | Oncological Sciences | Liver, Cancer, Zebrafish, WNT/B-catenin | | |
| Evavold, Brian | MB | Microbiology and Immunology | T cell antigen recognition | | |
| Fairfax, Keke | MB | Microbiology and Immunology | B cells, macrophages, schistosomiasis, maternal infection, pathogenesis | | Microbiology/Immunology |
| Franklin, Sarah | MB, BC | Biochemistry | Chromatin, Chromatin Remodeling Epigenetics, Proteomics | Biochemistry | Biochemistry/Structural Biology, Gene Expression, Microbiology/Immunology |
| Franzini, Raphael | BC | Medicinal Chemistry | Drug Development, Chemical Probes, Imaging Agents | Chemical Biology/Medicinal Chemistry | |
| Funai, Katsu | MB, BC | Nutrition and Integrative Physiology | Lipids, Mitochondria, Bioenergetics, Metabolic Disease | | Biochemistry/Structural Biology, Cancer/Cell Biology |
| Gagnon, James | MB | School of Biological Sciences | Developmental Biology, Genetics, Genomics | | Cancer/Cell Biology, Developmental Biology, Gene Expression, Genetics |
| Gertz, Jay | MB | Oncological Sciences | Transcription Factors, Gene Regulation, Cancer, Genomics, CRISPR | | Cancer/Cell Biology, Gene Expression, Genetics |
| Ghandehari, Hamid | MB, BC | Molecular Pharmaceutics | Nanomedicine and Drug Delivery | Biochemistry, Chemical Biology/Medicinal Chemistry | |
| Goel, Shreya | BC | Molecular Pharmaceutics | Molecular Imaging, Nanomedicine, Bioengineering, Biophysical Microenvironment | Chemical Biology/Medicinal Chemistry | |
| Golkowski, Martin | MB, BC | Pharmacology and Toxicology | Mass Spectrometry, Proteomics, Chemical Biology, Epigenomics, Protein Kinases, Cell Signaling, Drug Discovery, Protein-protein Interactions | | |
| Grainger, David | BC | Molecular Pharmaceutics | Biomaterials and Drug Delivery, Materials in Medicine, Nanomaterials Toxicity, Diagnostics, Cell Therapy | Biochemistry, Structural Biology/Biophysics | |
| Graves, Barbara | MB, BC | Oncological Sciences | Transcriptional Regulation, Transcription Mechanisms, Protein Biochemistry, autoinhibition and specificity of ETS transcription factors | Biochemistry | Cancer/Cell Biology, Developmental Biology, Gene Expression |
| Gregg, Chris | MB | Neurobiology | Neuroscience, genomics, genetics, autism, addiction, behavior, epigenetics | | Developmental Biology, Genetics, Neurobiology |
| Grossman, Doug | MB | Oncological Sciences | Skin Cancer, Melanoma, Chemoprevention | | Cancer/Cell Biology |
| Grossmann, Allie | MB | Microbiology and Immunology | RAS family of small GTPases, vesicular trafficking, oncogenic signaling, tumorigenesis, tumor progression, metastasis | | Cancer/Cell Biology, Microbiology/Immunology |
| Grunwald, David | MB | Human Genetics | Stem cells, tissue specification, and disease modeling in the zebrafish | | Developmental Biology, Genetics |
| Haecker, Hans | MB, BC | Microbiology and Immunology | Innate Immunity and Inflammation | | Biochemistry/Structural Biology, Cancer/Cell Biology, Microbiology/Immunology |
| Hale, Scott | MB | Microbiology and Immunology | T cell Biology, Immunological Memory, Anti-viral Immunity, Helper T cells, Memory T cells, Epigenetics, DNA Methylation | | Gene Expression, Microbiology/Immunology |
| Hammer, Gianna | MB | Microbiology and Immunology | | | |
| Hammond, Ming | BC | Chemistry | Biosensors, RNA, Fluorescence Imaging, Bacterial and Immune Cell Signaling | | |
| Herron, James | BC | Molecular Pharmaceutics | Structural Immunology, Vaccines, Biosensors | Structural Biology/Biophysics | |
| Heys, Jim | MB | Neurobiology | Learning and Memory, Synaptic Plasticity, Optical Methods | | Neurobiology |
| Hilgendorf, Keren | MB, BC | Biochemistry | Obesity, Diabetes, Cancer, Signaling, Stem Cells, Primary Cilium, Adipose Tissue | Biochemistry | Biochemistry/Structural Biology, Cancer/Cell Biology, Developmental Biology, Gene Expression |
| Hill, Chris | MB, BC | Biochemistry | Protein Structure & Function | Biochemistry, Structural Biology/Biophysics | Biochemistry/Structural Biology |
| Hollien, Julie | MB | School of Biological Sciences | Endoplasmic Reticulum (ER) Stress | | Cancer/Cell Biology, Gene Expression, Microbiology/Immunology |
| Holmen, Sheri | MB | Oncological Sciences | Tumor Initiation and Progression | | Cancer/Cell Biology |
| Hong, TingTing | MB, BC | Pharmacology and Toxicology | Cardiomyocyte, Transverse tubules, Microdomain, Heart Failure, Calcium signaling, Ion Channels, Extracellular Vesicles | Biochemistry | Biochemistry/Structural Biology, Cancer/Cell Biology |
| Horvath, Martin | MB, BC | School of Biological Sciences | Structural Biology, Biochemistry, DNA repair, Eye Health | Structural Biology/Biophysics | Biochemistry/Structural Biology, Neurobiology |
| Howard, Mike | MB | Human Genetics | Decoding the Genome | | Biochemistry/Structural Biology, Gene Expression, Microbiology/Immunology |
| Huang, Eric | MB | Oncological Sciences | Brain tumor; cancer metabolism; epigenetic and genetic alterations; hypoxia; tumor progression | | Cancer/Cell Biology, Gene Expression, Microbiology/Immunology |
| Hughes, Adam | MB, BC | Biochemistry | Organelle communication and disease, cell biology, organelle quality control, and nutrient sensing | Biochemistry | Biochemistry/Structural Biology, Cancer/Cell Biology, Genetics |
| Hughes, Kelly | MB | School of Biological Sciences | Biological Process in Bacteria | | |
| Iwasa, Janet | MB, BC | Biochemistry | Molecular Animation, Multimedia, Visualization, Education, Cell Biology, Biochemistry | | |
| Johnson, Jarrod | MB, BC | Microbiology and Immunology | Virology, Innate Immunity, Gene Delivery, Restriction Factors | Biochemistry | Biochemistry/Structural Biology, Microbiology/Immunology |
| Jones, Kevin | MB | Oncological Sciences | Mouse Genetic Model, Epigenetics, Pediatric Cancer, Soft-tissue Sarcoma, Translocation | | Cancer/Cell Biology, Gene Expression, Genetics |
| Jorde, Lynn | MB | Human Genetics | Human Population Genetics, Disease-gene Identification | | Genetics |
| Jorgensen, Erik | MB | School of Biological Sciences | Genetics of Neurotransmission, Synapse formation and modulation | | Developmental Biology, Genetics, Neurobiology |
| Judson-Torres, Robert | MB | Oncological Sciences | Melanocytes, Melanoma, Plasticity, Chemoprevention, Holography, Tumor Initiating Cells, microRNA, Transcriptomics | | Cancer/Cell Biology, Gene Expression |
| Karasov, Talia | MB | School of Biological Sciences | Host-pathogen evolution, microbial genetics, plant immunity, population genetics | | Genetics, Microbiology/Immunology |
| Kardon, Gabrielle | MB | Human Genetics | Musculoskeletal Development, Regeneration | | Developmental Biology, Genetics |
| Kay, Michael | MB, BC | Biochemistry | Protein Design, Viral Entry, Synthetic Biology, and Chemical Protein Synthesis | Biochemistry, Structural Biology/Biophysics | Biochemistry/Structural Biology, Microbiology/Immunology |
| Koh, Mei | MB, BC | Pharmacology and Toxicology | Solid Tumor Hypoxia, Kidney Cancer, Liver Cancer, HIF-1 and HIF-2 | Biochemistry | Biochemistry/Structural Biology, Cancer/Cell Biology |
| Kopecek, Henry | BC | Molecular Pharmaceutics | Biorecognition & Drug Delivery | Chemical Biology/Medicinal Chemistry | |
| Kramer, Jessica | BC | Molecular Pharmaceutics | Polymer Chemistry, Protein Engineering, Bioconjugation Techniques | Biochemistry, Chemical Biology/Medicinal Chemistry | |
| Kwan, Kristen | MB | Human Genetics | Zebrafish, Eye Development and Morphogenesis | | Cancer/Cell Biology, Developmental Biology, Genetics, Neurobiology |
| Lamb, Tracey | MB | Microbiology and Immunology | Malaria Immunopathogenesis | | Microbiology/Immunology, Neurobiology |
| Leffler, Ellen | MB | Human Genetics | Genomics, evolution, population genetics, non-human primates, malaria | | |
| Leibold, Betty | MB | Oncological Sciences | Iron Metabolism, Diabetes, Mitosis | | Cancer/Cell Biology, Gene Expression, Microbiology/Immunology |
| Lesniewski, Lisa | MB | Nutrition and Integrative Physiology | Aging, Obesity, Adipose, Artery, Atherosclerosis, Inflammation, Metabolism | | |
| Letsou, Anthea | MB | Human Genetics | Embryonic Development, Neurometabolic Disease, Neurodegenerative Disease, Drosophila | | Developmental Biology, Gene Expression, Microbiology/Immunology |
| Leung, Daniel | MB | Microbiology and Immunology | Microbiome, MAIT Cells, Cholera, Oral Vaccines, Diarrheal Diseases, Data Science | | Microbiology/Immunology |
| Lim, Carol | MB, BC | Molecular Pharmaceutics | Cancer Therapeutics, Gene Therapy, Peptide Therapy, Ovarian Cancer, Chronic Myeloid Leukemia | Biochemistry, Chemical Biology/Medicinal Chemistry | Biochemistry/Structural Biology, Cancer/Cell Biology |
| Link, Nichole | MB | Neurobiology | Drosophila Models of Human Disease, Microcephaly, Mechanisms of Virus-Induced Disease, Neuronal Stem Cells, Neurodevelopment, Neurodegeneration | | Cancer/Cell Biology, Developmental Biology, Genetics, Neurobiology |
| Liu, Yang | MB, BC | Biochemistry | Nucleic Acids, Gene Editing, Biotechnologies, Single-molecule Biophysics, Cell Dynamics, Immunity | Biochemistry, Chemical Biology/Medicinal Chemistry, Structural Biology/Biophysics | Biochemistry/Structural Biology, Cancer/Cell Biology, Gene Expression, Genetics, Microbiology/Immunology |
| Lo, Wan-Lin | MB, BC | Microbiology and Immunology | T cells; T cell ligand discrimination; T cell development; Self tolerance | | Microbiology/Immunology |
| Looper, Ryan | BC | Chemistry | Small Molecule Interactions in Biological Systems | Chemical Biology/Medicinal Chemistry | |
| Lu, Yue | BC | Molecular Pharmaceutics | Systems Biology, Extracellular Vesicles, Omics, Nanoengineering, Microfluidics | | |
| Mansour, Suzi | MB | Human Genetics | FGFs and Inner Ear Development, Mouse Models of Hearing Loss and Restoration | | Developmental Biology, Neurobiology |
| Maricq, Villu | MB | Neurobiology | Mechanisms and Development of Synaptic Function, Gluamate receptors and neural circuits | | Developmental Biology, Genetics, Neurobiology |
| Marth, Gabor | MB | Human Genetics | DNA Sequence Analysis Software | | Cancer/Cell Biology, Genetics |
| McMahon, Martin | MB, BC | Oncological Sciences | Translational Cancer Research, Mouse Models, Melanoma, Lung Cancer, Thyroid cancer, RAF Kinase, PI3 Kinase, Experimental Therapeutics | Chemical Biology/Medicinal Chemistry | Cancer/Cell Biology, Gene Expression, Genetics |
| Mendoza, Michelle | MB | Oncological Sciences | Cell Migration, Invasion, RAS, ERK, Lung Cancer, Signaling, Tumor Mechanics | | Cancer/Cell Biology, Developmental Biology |
| Miller, Matthew | MB, BC | Biochemistry | Chromosome Segregation, Cell Division, Microtubules, Cell Biology, Biochemistry, Biophysics | Biochemistry, Structural Biology/Biophysics | Biochemistry/Structural Biology, Cancer/Cell Biology, Genetics |
| Minteer, Shelley | BC | Chemistry | Bioelectrocatalysis, metabolic pathways | Biochemistry, Chemical Biology/Medicinal Chemistry | |
| Mulvey, Matthew | MB | School of Biological Sciences | Bacterial Pathogenesis, Innate Immunity, Antibiotics, Antibiotic Resistance, Urinary Tract Infection, Sepsis, Virulence Factors, Genetics, Cell Biology, Zebrafish, Infection | | Cancer/Cell Biology, Microbiology/Immunology |
| Murtaugh, Charles | MB | Human Genetics | Pancreas Development, Pancreatic Cancer, Regeneration | | Cancer/Cell Biology, Developmental Biology |
| Myers, Ben | MB, BC | Oncological Sciences | Signaling across the Membrane in Development and Cancer: Hedgehog, Wnt, Primary Cilium, Membrane Proteins / Lipids, G protein-coupled receptors | Biochemistry, Structural Biology/Biophysics | Biochemistry/Structural Biology, Cancer/Cell Biology, Developmental Biology, Neurobiology |
| Nagy, Gabe | BC | Chemistry | Bioanalytical Separations, Mass Spectrometry, Carbohydrates | Chemical Biology/Medicinal Chemistry | |
| O'Connell, Ryan | MB | Microbiology and Immunology | Noncoding RNAs, Inflammation, Cancer, Extracellular Vesicles, Microbiota and Metabolism | | Cancer/Cell Biology, Microbiology/Immunology |
| Odelberg, Shannon | MB | Neurobiology | Cellular Plasticity and Regeneration | | Neurobiology |
| Olivera, Toto | MB, BC | School of Biological Sciences | Conotoxins, Molecular Neuroscience | Biochemistry | Biochemistry/Structural Biology, Neurobiology |
| Osterhout, Jessica | MB | Neurobiology | Sickness Symptoms, Immune-brain Communication, Neural Circuits Controlling Sickness Behavior | | |
| Owen, Shawn | BC | Molecular Pharmaceutics | Biotherapeutics, Biomaterials for cell-based therapy | Biochemistry, Chemical Biology/Medicinal Chemistry | |
| Park, Sungjin | MB | Neurobiology | Cell Signaling, Neuron-Glial Interaction, GPI-anchored Proteins, extracellular matrix organization | | Developmental Biology, Neurobiology |
| Pavlova, Natasha | MB | Oncological Sciences | Cancer Metabolism, Tumor Microenvironment, Nutrient Sensing, Amino Acids, tRNA Charging, Regulation of Protein Expression, Cell Fate Determination | | |
| Peterson, Randy | MB, BC | Pharmacology and Toxicology | Zebrafish, phenotypic screening, behavior, neuropharmacology, disease models, genome editing, therapeutics | | Developmental Biology, Genetics, Neurobiology |
| Pezzolesi, Marcus | MB | Human Genetics | Diabetes, Diabetic Nephropathy, Chronic Kidney Disease, Genetics, Next-generation Sequencing, microRNAs | | Genetics |
| Phadnis, Nitin | MB | School of Biological Sciences | Speciation, genetic conflict segregation distortion, chromosome mechanics | | Developmental Biology, Genetics |
| Planelles, Vicente | MB | Microbiology and Immunology | Pathogenesis of HIV-1 | | Cancer/Cell Biology, Microbiology/Immunology |
| Pornillos, Owen | MB, BC | Biochemistry | HIV Biochemistry and Structural Biology, Virus-host Interactions, Innate Anti-viral Defenses | | |
| Potts, Wayne | MB | School of Biological Sciences | Immunogenetics, Host-parasite Coevolution | | Genetics, Microbiology/Immunology |
| Puri, Aaron | BC | Chemistry | Chemical ecology, drug discovery, microbiome, natural products, microbiology, biosynthesis, secondary metabolites | Biochemistry, Chemical Biology/Medicinal Chemistry, Structural Biology/Biophysics | |
| Quinlan, Aaron | MB | Human Genetics | Genomics, Computational Biology, Bioinformatics, Human Genetics, Cancer Genomics, Rare Disease Genetics, Ovarian Cancer | | Cancer/Cell Biology, Genetics |
| Reeves, Melissa | MB | Microbiology and Immunology | Tumor Immunology, Tumor Heterogeneity, T cells, Tumor Evolution | | |
| Reilly, Chris | BC | Pharmacology and Toxicology | Pulmonary Toxicology, Drug metabolism and pharmacokinetics, Drug Discovery | Biochemistry, Chemical Biology/Medicinal Chemistry | |
| Roberts, Andrew | BC | Chemistry | Chemical protein synthesis, peptides, organocatalysis, catalysis, natural products | Chemical Biology/Medicinal Chemistry | |
| Rodan, Aylin | MB | Human Genetics | Ion Transport, Kinase, Drosophila, Kidney, Osmoregulation, Blood Pressure, Salt Sensitivity, Potassium, Sodium, Metabolism | | Biochemistry/Structural Biology, Genetics, Neurobiology |
| Rog, Ofer | MB | School of Biological Sciences | Chromosome Biology, Meiosis, Synaptonemal Complex, C. elegans, Yeast, Microscopy | | Cancer/Cell Biology, Developmental Biology, Genetics |
| Roh-Johnson, Minna | MB, BC | Biochemistry | Cell Migration, Tumor Microenvironment, Cytoskeleton, Zebrafish, Mouse, Dictyostelium, Immunology, Breast Cancer, Melanoma | Biochemistry | Biochemistry/Structural Biology, Cancer/Cell Biology, Developmental Biology |
| Rondina, Matthew | MB | Microbiology and Immunology | Inflammation, RNA expression, proteins, megakaryocytes and platelet regulation | | Gene Expression, Microbiology/Immunology |
| Rose, Gary | MB | School of Biological Sciences | Neural Mechanisms of Behavior | | Neurobiology |
| Round, June | MB | Microbiology and Immunology | Host-Commensal Bacterial Interactions | | Microbiology/Immunology |
| Roy, Koushik | MB, BC | Microbiology and Immunology | Transcriptional Regulation, Cell Signaling, Adaptive Immunity, B Cell Biology, Immunological Memory, B Cell Cancer, Vaccine development, Systems Biology | | |
| Rutter, Jared | MB, BC | Biochemistry | Cancer Metabolism, Diabetes & Obesity, Metabolic Signaling | Biochemistry, Chemical Biology/Medicinal Chemistry | Biochemistry/Structural Biology, Developmental Biology, Genetics |
| Safavi-Hemami, Helena | MB, BC | Biochemistry | Animal venoms, drug discovery, natural products, venom evolution, therapeutics, diabetes, pain | | |
| Saffarian, Saveez | BC | School of Biological Sciences | Enveloped Virus Budding | Structural Biology/Biophysics | |
| Saijoh, Yukio | MB | Neurobiology | Left-Right Asymmetry, heart development | | Cancer/Cell Biology, Developmental Biology |
| Schiffman, Joshua | MB | Oncological Sciences | Copy Number, Genomics, Hereditary Cancer, Comparative Oncology | | Cancer/Cell Biology |
| Schmidt, Eric | MB, BC | Medicinal Chemistry | Symbiosis, microbiome, metagenomics, synthetic biology, natural products chemistry, biosynthesis | Chemical Biology/Medicinal Chemistry | Biochemistry/Structural Biology, Microbiology/Immunology |
| Shapiro, Mike | MB | School of Biological Sciences | Evolutionary Genetics, Genomics, and Developmental Biology | | Developmental Biology, Genetics |
| Shcheglovitov, Alex | MB | Neurobiology | Development of human cerebral cortex, synapses, and neuronal networks in health and disease | | Developmental Biology, Gene Expression, Genetics, Neurobiology |
| Shen, Peter | MB, BC | Biochemistry | Protein Homeostasis, Protein Structure, cryo-EM, Image Processing, Protein Quality Control, Proteopathy, Protein Complexes | Biochemistry, Structural Biology/Biophysics | Biochemistry/Structural Biology |
| Shepherd, Jason | MB, BC | Neurobiology | Synaptic plasticity, memory and neurological disorders, Memory Formation | Biochemistry | Developmental Biology, Neurobiology |
| Sieburth, Leslie | MB | School of Biological Sciences | Plant Developmental Genetics | | Developmental Biology, Genetics |
| Sigala, Paul | MB, BC | Biochemistry | Malaria Parasite Biochemistry and Cell Biology, Heme and Iron Metabolism, Organelle Metabolism, Regulation, and Adaptation | Biochemistry, Chemical Biology/Medicinal Chemistry, Structural Biology/Biophysics | Biochemistry/Structural Biology, Cancer/Cell Biology, Gene Expression, Microbiology/Immunology |
| Snyder, Eric | MB | Oncological Sciences | Lineage Plasticity in Cancer | | Cancer/Cell Biology, Gene Expression |
| Spike, Ben | MB | Oncological Sciences | Stem Cells, Tissue Development, Cellular Plasticity, Cellular Heterogeneity, Transcriptomics | | Cancer/Cell Biology, Developmental Biology, Gene Expression, Genetics |
| Stanfield, Gillian | MB | Human Genetics | Cell Division, Cell Migration, Cell Competition | | Developmental Biology, Genetics |
| Starr, Tyler | MB, BC | Biochemistry | Protein evolution in viruses and immunity, SARS-CoV-2; HIV, Zoonosis, Molecular Evolution | | |
| Stewart, Rodney | MB | Oncological Sciences | Zebrafish Cancer Models, Childhood Cancers, Brain Tumors, Embryology, Live-Imaging, Genetics, Genomics and Epigenetics | | Cancer/Cell Biology, Developmental Biology |
| Summers, Scott | MB, BC | Nutrition and Integrative Physiology | Diabetes, Dyslipidemia, Metabolic Disease, Sphingolipids, Ceramide, Insulin Resistance and Beta Cell Failure | Biochemistry | Cancer/Cell Biology |
| Sundquist, Wes | MB, BC | Biochemistry | HIV Assembly, Replication and Restriction; Cell Division | Biochemistry, Structural Biology/Biophysics | Biochemistry/Structural Biology, Microbiology/Immunology |
| Swaminathan, Sankar | MB | Microbiology and Immunology | Virology, Immunology, epigenetics | | Biochemistry/Structural Biology, Gene Expression, Microbiology/Immunology |
| Swanson, Jessica | BC | Chemistry | Multiscale simulations of biomolecular systems. Membrane permeation, lipid droplets, ATP hydrolysis, AAA+ ATPases, charge transport, channels and antiporters | Biochemistry, Chemical Biology/Medicinal Chemistry, Structural Biology/Biophysics | Biochemistry/Structural Biology |
| Tan, Aik Choon | MB | Oncological Sciences | Translational Bioinformatics, Cancer Systems Biology, Cancer Data Science, Computational Immuno-Oncology, Precision Oncology | | |
| Tantin, Dean | MB | Microbiology and Immunology | Gene Regulation in T cells, in T cell memory and autoimmunity, in Stem Cells and in Cancer | | Cancer/Cell Biology, Gene Expression, Microbiology/Immunology |
| Tavtigian, Sean | MB | Oncological Sciences | Genetic Cancer Susceptibility | | Genetics |
| Tian, Ning | MB | Neurobiology | Synaptic development, circuit assembly, synaptic plasticity, molecular control, retina | | Developmental Biology, Neurobiology |
| Ullman, Katie | MB | Oncological Sciences | Cell Division, Nuclear Transport, Nuclear assembly, DNA damage, Cytokinesis | | Cancer/Cell Biology, Developmental Biology |
| VanBrocklin, Matthew | MB | Oncological Sciences | Melanoma, Carcinoma, Non-Small-Cell Lung, Molecular Targets | | Cancer/Cell Biology |
| Varley, K-T | MB | Oncological Sciences | Genomics, Breast Cancer, Epigenetics, Gene Regulation, DNA methylation, Biomarkers, CRISPR, Ovarian Cancer, Cancer Immunotherapy, Cancer Immunology | | Cancer/Cell Biology, Gene Expression, Genetics |
| Venero Galanternik, Marina | MB | Human Genetics | Meninges, zebrafish, developmental biology, meningeal cells, perivascular meningeal cells, lymphatic system, lymphatic vessels, meningeal layers, high-resolution microscopy | | |
| Venosa, Alessandro | MB, BC | Pharmacology and Toxicology | Cell Biology, Lung inflammation, Lung fibrosis, Environmental Toxicology | | |
| Vershinin, Michael | BC | School of Biological Sciences | Molecular Motors, Biophysics | Structural Biology/Biophysics | |
| Vetter, Monica | MB | Neurobiology | Chromatin modifiers in development, Microglia in retinal development and disease | | Developmental Biology, Neurobiology |
| Vierra, Nick | MB | School of Biological Sciences | Molecular Neuroscience, Membrane Contact Sites, Electrophysiology, Intracellular Signaling, Antibodies | | |
| Wachowiak, Matt | MB | Neurobiology | Optical imaging, olfaction, neural circuits, odorant receptors, behavior | | |
| Wang, Yuru | | Medicinal Chemistry | Epitranscriptomics, RNA Modifications, RNA Editing, Pseudouridine, Inosine, Protein Evolution, Biomedicine, RNA Therapeutics | | |
| Weis, Janis | MB | Microbiology and Immunology | Genetic Regulation of Lyme Disease | | Microbiology/Immunology |
| Weller, Melodie | MB | Microbiology and Immunology | Virology, Autoimmune Diseases, Oral Health, Infectious Disease, Infectious Disease Surveillance | | Microbiology/Immunology |
| Welm, Alana | MB | Oncological Sciences | Metastasis of Breast Cancer | | Cancer/Cell Biology, Genetics |
| Welm, Bryan | MB, BC | Oncological Sciences | Breast Cancer/ Stem Cells | Chemical Biology/Medicinal Chemistry | Cancer/Cell Biology |
| Werner, Michael | MB | School of Biological Sciences | Developmental (Phenotypic) Plasticity, Chromatin, Epigenetics, Gene Regulation | | Biochemistry/Structural Biology, Developmental Biology, Gene Expression, Genetics |
| Wilcox, Karen | BC | Pharmacology and Toxicology | Anticonvulsant Drugs, inflammation, epilepsy | Chemical Biology/Medicinal Chemistry | |
| Williams, Matt | MB | Microbiology and Immunology | T cell Differentiation and Function in Response to Infections and Tumors, Immunologic Memory | | Microbiology/Immunology |
| Williams, Megan | MB | Neurobiology | Neurobiology, Molecular Mechanisms of Synapse Formation | | Developmental Biology, Neurobiology |
| Winter, Jaclyn | BC | Pharmacology and Toxicology | Natural Product Biosynthesis, Drug Discovery, Synthetic Biology, Antibiotic Resistance | Chemical Biology/Medicinal Chemistry | |
| Yandell, Mark | MB | Human Genetics | Bioinformatics and Comparative Genomics | | Gene Expression, Genetics, Microbiology/Immunology |
| Yang, Jun | MB | Neurobiology | Photoreceptors, Hair Cells and Multi-Protein Complex, Treatment of Retinal Degeneration | | Cancer/Cell Biology, Gene Expression, Genetics, Microbiology/Immunology, Neurobiology |
| Yang, Tianxin | MB | Nutrition and Integrative Physiology | (Pro)renin receptor, the distal nephron, hypertension, kidney disease, diabetes | | |
| Yoo, Chan Yul | MB | School of Biological Sciences | Plant Molecular Cellular and Developmental Biology, Photoreceptor-containing Nuclear Bodies (Photobodies), Organelle Communication, Genetics | | |
| Yoo, Heejin | MB | School of Biological Sciences | Plant Immunity, Plant Metabolism, Translational Regulation, Programmed Cell Death, Effector Triggered Immunity, Systemic Acquired Resistance, Salicylic Acid, Plant Volatiles | | |
| Yost, Joe | MB | Neurobiology | Genes & Developmental Mechanisms | | Developmental Biology |
| Young, Arabella | MB | Microbiology and Immunology | Cancer Immunotherapy, Immune-related Adverse Events, Tumor Microenvironment, Autoimmunity, Diabetes | | Cancer/Cell Biology, Microbiology/Immunology |
| Yu, Michael (Seungju) | BC | Molecular Pharmaceutics | Drug delivery, Tissue engineering, Regenerative medicine, Biopolymers, Collagen, Peptide | Chemical Biology/Medicinal Chemistry | |
| Zelikowsky, Moriel | MB | Neurobiology | Stress, Social Isolation, PTSD, Neural Circuits of Emotion, Neuropeptides | | Genetics, Neurobiology |
| Zhang, Xiaoyang | MB, BC | Oncological Sciences | Cancer Genomics, 3D Genomics Genome/Epigenome Editing | Biochemistry | Cancer/Cell Biology, Gene Expression, Genetics |
Top